Glytactin® BUILD 20/20 Vanilla - NEW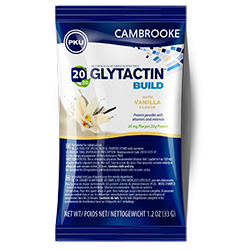 Low Calorie, Lowest Phe, Low Volume
All the great BUILD 20/20 nutrition with a subtly sweet, natural and creamy vanilla flavor!
Glytactin® Build 20/20 Vanilla is a glycomacropeptide (GMP) based-protein powdered medical food for the dietary management of PKU for those on a low phenylalanine diet who are seeking fewer calories, lower volume, and lower Phe than other GMP-based PKU medical foods.
Per 20g PE Single Serving Pouch:
110 calories
20 mg Phe
Mixes with 4 oz water
Contains GMPure: The lowest Phe GMP protein-based medical foods for PKU

30-44% less Phe than other GMP PKU formulas learn more
Only 1 mg Phe per gram of protein

Natural protein – GMP plus naturally fermented amino acids*
Nutritionally complete with vitamins and minerals
Contains DHA to support brain and heart health
Contains probiotics to support digestive health
No artificial colors or flavors
---
Glytactin BUILD 20/20 Vanilla is for use in the dietary management of phenylketonuria in people ages one year and older. BUILD 20/20 Vanilla is intended for those ages 1 year and older who are under medical supervision for proven PKU. Protein in prescribed amounts must be supplemented to completely meet phenylalanine requirements. Work with your metabolic clinician to determine the daily protein intake (number of grams) you will use per day. Always use Glytactin BUILD 20/20 Vanilla as directed by your physician or dietitian.
Glycomacropeptide, Larginine, Lleucine, Ltyrosine, sunflower oil, soy lecithin, glycine, Llysine acetate, contains less than 2% of Lhistidine, Ltryptophan, docosahexaenoic acid (DHA), maltodextrin, food starch modified, inulin, guar gum, xanthan gum, carrageenan, salt, natural flavors, vitamin A palmitate, thiamin mononitrate, riboflavin, pyridoxine hydrochloride, dcalcium pantothenate, niacinamide, phytonadione, menaquinoneMK7, folic acid, biotin, cyanocobalamin, ascorbic acid, cholecalciferol, dlαtocopheryl acetate, calcium lactate, potassium phosphate, magnesium phosphate, ferrous fumarate, zinc sulfate, manganese sulfate, copper gluconate, potassium iodide, sodium selenite, sodium molybdate, chromium chloride, potassium chloride, canola oil, sucralose, citric acid, malic acid, acesulfame potassium, Bacillus coagulans GBI30 6086. Contains milk and soy
| | 1.2 oz (33g) packet | per 100g |
| --- | --- | --- |
| Protein Equivalent, g | 20 | 60.5 |
| Calories | 110 | 333 |
| Phenylalanine, mg | 20 | 60.6 |
| Fat, g | 2.0 | 6.1 |
30 x 1.2 oz (33g) packets
* Produced by fermentation categorized as a natural process by USDA