New!

Delicious!

Convenient!

Tylactin® COMPLETE
Now Tylactin natural GMP protein in a delicious 'on-the-go' bar!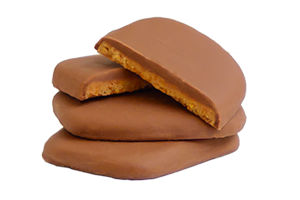 Tylactin protein: GMP natural whey based protein with the optimal blend of supplementary amino acids.
Your Tylactin medical formula in a bar format.
Smooth and tasty peanut butter flavor.
Convenient 5g PE portions.
Complete vitamin and minerals.
Tylactin COMPLETE (bar) is a chewy chocolate peanut butter flavored bar perfectly portioned as a complete balanced meal for the dietary management of TYR.
Tylactin COMPLETE provides 15g PE and is available in a great tasting peanut butter flavor. All Tylactin COMPLETE medical formulas contain Tylactin, the proprietary, advanced formulation of glycomacropeptide and essential amino acids.