NEW & IMPROVED!
The only spoonable GMP Formula & Contains GMPure*
Glytactin® SWIRL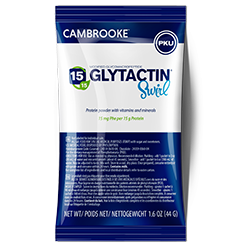 A glycomacropeptide (GMP) based powdered medical food complete with vitamins and minerals for the dietary management of Phenylketonuria.
*Contains GMPure™ — the lowest Phe GMP-based protein in PKU medical foods; ~40% less Phe per gram of protein compared to other GMP-based formulas
Suitable for individuals over 1 year of age
Available in Caramel and Chocolate flavors
Flexible option: Pudding - add 1 packet to 3 oz. (90 mL) of water, Smoothie - add 1 packet to 6 oz. (180 mL) of water.
Contains probiotics
Features Summary (per 44 g single-serve packet)
---
Swirl is indicated for the dietary management of phenylketonuria (PKU) for children over 1 year of age through adulthood. Additional natural protein must be supplemented to completely meet phenylalanine requirements. Always use Swirl as directed by your physician or dietitian.
Tapioca food starch, sugar, glycomacropeptide, L-leucine, L-arginine, L-tyrosine, L-lysine acetate, glycine, maltodextrin. Contains less than 2% of high oleic canola oil, tapioca syrup solids, medium chain triglycerides, canola oil, L-tryptophan, L-histidine, docosahexaenoic acid (DHA), L-methionine, natural flavor, Bacillus coagulans GBI-30 6086, xanthan gum, guar gum, acesulfame potassium, fruit juice (color), sucralose, retinyl palmitate, cholecalciferol, all-rac-α-tocopheryl acetate, phylloquinone, menaquinone (MK-7), thiamine mononitrate, riboflavin, niacinamide, calcium D-pantothenate, pyridoxine hydrochloride, folic acid, cyanocobalamin, biotin, sodium ascorbate, calcium citrate, calcium phosphate, magnesium phosphate, potassium phosphate, chromium chloride, copper citrate, potassium iodide, ferric pyrophosphate, manganese sulfate, sodium molybdate, zinc oxide, sodium selenite. Contains milk.
*Chocolate also contains less than 2% of alkalized cocoa.
Caramel: 24359-0610-04
Chocolate: 24359-0360-04
HCPCS: B4157 or B4162
14 x 1.6 oz (44g) packets