Homactin™ AA Plus Powder 15 - NEW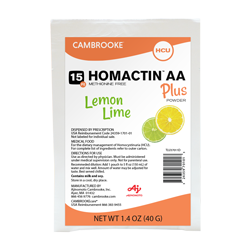 Homactin AA Plus Powder 15 is an amino acid-based methionine-free, nutritionally complete, powder medical food for the dietary management of Homocystinuria.
Homactin AA Plus Powder has a light, fresh taste in a Lemon Lime flavor. Suitable for ages 1 through adulthood.
KEY FEATURES
15g protein equivalents (PE) per serving
150 calories per serving
No artificial flavors or colors – Lemon Lime flavor
Balanced amino acid profile to better meet HCU needs
115 mg DHA per serving
Optimized to support Bone Health
Pre-biotic fiber, 2 g per serving
---
For the dietary management of Homocystinuria (HCU). A methionine-free, nutritionally complete medical food for individuals one year of age and older. Use as directed by physician. Must be administered under medical supervision only. Dispensed by prescription.
Food starch modified, sugar, refined vegetable oil (high oleic canola oil, medium chain triglycerides, canola oil), inulin, Llysine acetate, Lleucine, glycine, Lproline, Lasparagine, Lalanine, tapioca syrup solids, Lserine, Lvaline, sodium citrate, Lisoleucine, Larginine, contains less than 2% of Lthreonine, Lphenylalanine, Ltyrosine, Lcystine, Lhistidine, Ltryptophan, Lglutamine, Lcarnitine, natural flavor, docosahexaenoic acid (DHA), vitamin A palmitate, thiamin mononitrate, riboflavin, pyridoxine hydrochloride, dcalcium pantothenate, niacinamide, phytonadione, menaquinone (MK7), folic acid, biotin, cyanocobalamin, ascorbic acid, cholecalciferol, dlalphatocopheryl acetate, calcium lactate, potassium phosphate, magnesium phosphate, potassium citrate, choline bitartrate, ferrous fumarate, zinc sulfate, manganese sulfate, copper gluconate, potassium iodide, sodium selenite, sodium molybdate, chromium chloride, potassium chloride, salt, taurine, citric acid, inositol, acesulfame potassium, sucralose. Contains milk and soy.
| Lemon Lime | 1.4 oz (40 g) packet | per 100g |
| --- | --- | --- |
| Protein Equivalent, g | 15.3 | 38.2 |
| Calories | 150 | 376 |
| Methionine, mg | 0 | 0 |
| Fat, g | 3.0 | 7.5 |
30 x 1.4 oz (40 g) packets