Glytactin® RTD (ready-to-drink)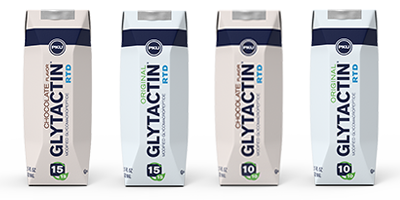 Glytactin RTD is a GMP whole protein based complete metabolic formula in a ready-to-drink form for the dietary management of PKU for over 1 year of age.
Glytactin RTD comes in two great tasting flavors. All Glytactin RTD medical food formulas contain Glytactin, the proprietary, advanced formulation of glycomacropeptide and essential amino acids.
Two great flavors (Original and Chocolate) - you will not believe it is formula!
2 protein equivalent (PE) RTD formulas: 10g and 15g.
A more neutral pH and lower osmolality RTD formula compared to synthetic amino acid formulas.
Convenient RTD option makes it easy to drink on the go.

Kosher Certified - OU Dairy certified by the Union of Orthodox Jewish Congregations of America (the "Orthodox Union"). Learn more at oukosher.org