Glytactin® with GMP
Ajinomoto Cambrooke manufactures a variety of delicious medical food formulas containing Glytactin with GMP designed to help meet the specialized nutritional needs of patients with therapeutic or chronic medical needs (specifically, Phenylketonuria). The formulation and nutrient composition of our medical foods are based on clinical research findings and recognized nutrient needs.
Good Nutrition Has No Side Effects!™
Phenylketonuria (PKU) is a rare genetic disease caused by the inability of the body to metabolize the essential amino acid, phenylalanine (Phe). Left untreated, Phe will accumulate in the blood and body tissues and this excess Phe is toxic to the central nervous system. Untreated PKU will often lead to mental retardation, seizures and other serious medical conditions. PKU disease is typically diagnosed at birth through newborn screening.
Standard treatment of PKU requires a strict, life long, adherence to a special diet, which is very low in phenylalanine. Because phenylalanine is present in almost all natural protein sources, the diet is extremely challenging for patients, requiring the elimination of foods that contain protein. Natural protein sources are replaced in the PKU patient with synthetic free amino acid protein substitutes called "metabolic formula" or they are often referred to as "medical foods". These protein sources are consumed daily in place of natural proteins.
Glytactin is the world's first PKU protein formula that is made from a natural whole protein derived from whey called glycomacropeptide (GMP). GMP is produced during the cheese making process and it is the only naturally occurring protein that does not contain Phe in its pure form. The natural absence of Phe in this unique protein makes it ideal for the PKU diet. Glytactin was developed in collaboration with the University of Wisconsin and is a combination of GMP and certain critical amino acids, such as arginine and tyrosine, which are also not found naturally in GMP. Until the introduction of Glytactin in 2010, PKU formulas were always made of 100% synthetic, man-made free amino acid proteins. Studies have shown that natural intact proteins, like GMP, have a slower absorption rate in the body and an improved protein usage when compared with single amino acids, which mimic whole intact protein.[1]
---
Now OU-D Kosher Certified
Currently, all liquid Glytactin formulas are OU-D kosher certified:
Glytactin RTD
Glytactin RTD Lite
Glytactin Restore
Glytactin Restore Lite

Kosher Certified - OU Dairy certified by the Union of Orthodox Jewish Congregations of America (the "Orthodox Union"). Learn more at oukosher.org
---
1. Van Calcar, et al. Food Products Made with Glycomacropeptide, a low-Phenylalanine Whey Protein, Provide a New Alternative to Amino Acid-Based Medical Foods for Nutrition Management of Phenylketonuria. Academy of Nutrition and Dietetics. 2212-2672. 2012
GlytactineLearning Tool!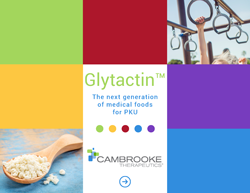 Learn more about Glytactin by viewing online or downloading the new eLearning Tool.
Cambrooke worked with Met Ed experts, Fran Rohr, MS, RD, and Laurie Bernstein, MS, RD, to design this interactive elearning tool to help inform and educate individuals with PKU, caregivers, and healthcare professionals about the background and recently published (July 2016) evidence based benefits of Glytactin with GMP.