Tylactin® RTD (ready-to-drink)
Tylactin RTD is the first and only whole protein TYR formula in a ready-to-drink format for the dietary management of of TYR types I, II, III.
Tylactin RTD is a medical food formula which contains Tylactin, the proprietary, advanced formulation of glycomacropeptide and essential amino acids without added tyrosine and phenylalanine. Phenylalanine is not added because phenylalanine naturally converts into tyrosine.
Great neutral taste allowing you to drink on its own or add flavoring –
you will not believe it is formula!
Contains 15g protein equivalent (PE) per carton.
A more neutral pH and lower osmolality RTD formula compared to synthetic amino acid formulas.
Convenient RTD option makes it easy to drink on the go.

Kosher Certified - OU Dairy certified by the Union of Orthodox Jewish Congregations of America (the "Orthodox Union"). Learn more at oukosher.org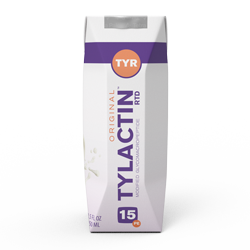 New purple background – Purple is the distinct color for Tyrosinemia medical foods. For your safety, Tylactin RTD product labels have a new purple background along with the purple band and "TYR". The formula has not changed, just the packaging.