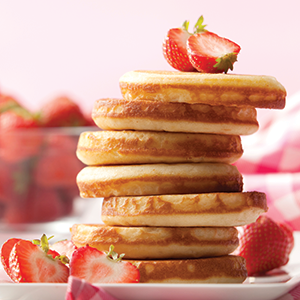 CATEGORY Breakfast, Glytactin
SERVING SIZE 243 g ( 1 waffle )
SERVINGS PER RECIPE 1
1 cup (100g) Cambrooke MixQuick
1/2 packet (24.5g) Glytactin BetterMilk
4 oz water
Heat waffle iron; grease with vegetable oil or shortening.
Stir ingredients until blended.
Pour onto center of hot waffle iron and close lid.
Bake about 5 minutes or until golden brown and crispy.
Carefully remove waffle and serve with butter and syrup.
NOTE: Delivers 7.5g of protein equivalent from BetterMilk.
| | Per Recipe | Per Serving |
| --- | --- | --- |
| Phe, mg | 18 | 18 |
| Leu, mg | 1446 | 1446 |
| Protein, g | 0.3 | 0.3 |
| Protein Equivalent, g | 7.5 | 7.5 |
| Calories | 470 | 470 |