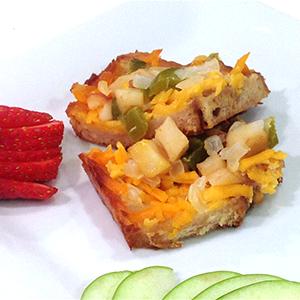 CATEGORY Breakfast, Main Dish, Side Dish
SERVING SIZE 94 g ( 1 square )
SERVINGS PER RECIPE 15
1 cup frozen potatoes (small chunks, shreds or hash brown patties)
6 slices CBF Homestyle Sliced White Bread
3 Tbs butter
1 cup CBF Cheddar Shreds
1 cup green bell pepper, diced
1 cup onion, diced
1 1/2 cups non-dairy creamer
1 1/2 Tbs egg replacer
1/2 tsp salt pinch of black pepper
Preheat oven to 350 degrees F.
Lightly fry potatoes in frying pan, seasoning with salt and pepper to taste.
Butter bread on one side and place buttered-side down in a 9x13 pan. Sprinkle cheddar shreds over bread and cover with potatoes, peppers, and onions.
In a separate bowl, beat egg replacer with non-dairy creamer, salt, and pepper. Pour over top of casserole.
Cover and bake for 45 minutes.
Remove cover and bake an additional 15 minutes. Cut into 15 squares.
SUGGESTIONS: Any combination of vegetables can be used in this dish. Try red peppers or tomato for a splash of color. This can be prepared the night before and kept in the refrigerator to be baked in the morning for an easy brunch.
| | Per Recipe | Per Serving |
| --- | --- | --- |
| Phe, mg | 615 | 41 |
| Leu, mg | 630 | 42 |
| Protein, g | 11 | 0.7 |
| Calories | 1950 | 130 |