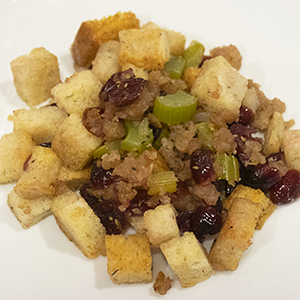 CATEGORY Main Dish, Side Dish
SERVING SIZE 159 g ( 1/8 of Stuffing )
SERVINGS PER RECIPE 8
½ loaf Cambrooke Homestyle Bread, cubed
1 cup Cambrooke Sausage Patty Mix
¾ cup chopped onion
1 cup chopped celery
¾ Tbs dried sage
½ Tbs dried rosemary
½ tsp dried thyme
1 cup dried cranberries
4 Tbs oil
1 cup Cambrooke Chicken Consommé, prepared
⅓ cup butter, melted
Spread bread cubes in a single layer on a baking sheet. Bake 5-7 minutes at 350 degrees or until evenly toasted. Transfer toasted breadcrumbs to a large bowl.
In a medium bowl add 1 Tbs oil, water, and sausage patty mix to form a patty.
In a large nonstick skillet, add additional vegetable oil and heat. Add patty and onions and cook on medium heat, breaking up patty to form crumbles. Add the celery, sage, rosemary and thyme. Cook, stirring for 2-3 minutes.
Pour sausage mixture over bread in bowl. Mix in cranberries. Drizzle with Chicken Consomme and melted butter and toss until evenly coated.
Spoon into 9x13 baking dishes, cover with aluminum foil and cook for 20 minutes. Remove foil, cook for an additional 10 minutes.
| | Per Recipe | Per Serving |
| --- | --- | --- |
| Phe, mg | 224 | 28 |
| Leu, mg | 352 | 44 |
| Protein, g | 8 | 1 |
| Calories | 2960 | 370 |