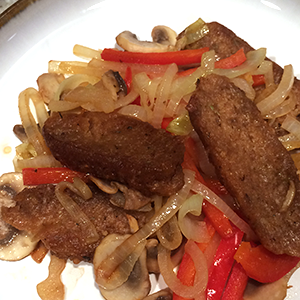 CATEGORY Main Dish
SERVING SIZE 207 g ( 1/2 recipe )
SERVINGS PER RECIPE 2
½ cup Cambrooke Burger Patty Mix
½ cup (67g) red pepper, sliced
½ cup (49g) mushrooms, sliced
1 cup (124g) onion, sliced
1 tsp garlic powder
1 tsp fennel seed
1 tsp Italian seasoning
6 Tbs water
2 tsp oil
1 Cambrooke Marinara Mini, optional
1 Tbs oil, for cooking
In a bowl, combine Burger Patty Mix, garlic powder, fennel seed, Italian seasoning. Add water and oil, then mix together.
Lightly wet hands and gently form mixture into sausage links.
Heat oil in a nonstick pan. Add sausage links and gently cook until lightly brown on all sides. Remove from pan and set aside.
In the same pan add peppers and onions. Cook until soft.
Slice sausage links lengthwise, then in half. Place back in pan with peppers and onions and continue to heat. Add Marinara Mini (if desired). Gently stirring as to not break up sausages. Serve.
| | Per Recipe | Per Serving |
| --- | --- | --- |
| Phe, mg | 178 | 89 |
| Leu, mg | 226 | 113 |
| Protein, g | 5.6 | 2.8 |
| Calories | 480 | 240 |