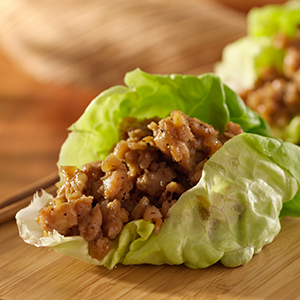 CATEGORY Main Dish
SERVING SIZE 81 g ( about 1/2 cup )
SERVINGS PER RECIPE 2
1 Cambrooke Chicken Patty Mix patty, uncooked (see package instructions)
1 clove garlic, minced
¼ (17.5g) small onion, chopped
⅓ cup coleslaw mix
2 tsp teriyaki sauce
1 tsp dark sesame oil
2 tsp minced pickled ginger (optional)
1 green onion, sliced
4 (36g) Boston bib or butter lettuce leaves
In a lightly greased, non-stick skillet over medium-high heat, add the patty and cook, stirring and chopping up frequently until browned and crumbled. Remove from skillet and set aside.
Saute garlic and onion together until tender. Add coleslaw mix and cook for 5-7 minutes. Stir in teriyaki sauce, sesame oil and pickled ginger. Add patty crumbles and green onion. Cook and stir another 2 minutes, then remove from heat.
Spoon mixture onto lettuce leaves and serve.
NOTE: Nutritional information does not include the optional pickled ginger. Try making recipe with Burger Patty Mix - nutritional values will vary slightly.
| | Per Recipe | Per Serving |
| --- | --- | --- |
| Phe, mg | 76 | 38 |
| Leu, mg | 132 | 66 |
| Protein, g | 2.8 | 1.4 |
| Calories | 180 | 90 |