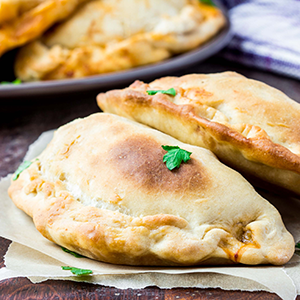 CATEGORY Main Dish
SERVING SIZE 146 g ( 1/2 calzone )
SERVINGS PER RECIPE 2
1 (120g) Cambrooke Readi-Dough
3 Tbs (45g) canned petite diced tomatoes
¼ cup (40g) onions, sauteed & caramelized
1 tsp fresh basil, minced
½ tsp oregano
¼ tsp salt
2 tsp olive oil
3 (54g) mushrooms, sliced
3 Tbs (21g) Cambrooke Mozzarella Shreds
salt & pepper, to taste
Preheat oven to 400 degrees F.
In a small bowl, combine diced tomatoes, onions, basil, oregano, salt, olive oil and mushrooms. Mix together and set aside.
Roll out dough large enough to cut a circle using the underside of pocket pie mold or calzone maker. Place dough in mold and fill with tomato mixture. Top with mozzarella and fold mold over and press to crimp. (If you do not have a mold or calzone maker, the calzone can be formed by hand.) Pop the calzone out of the mold and place on baking sheet.
Lightly brush calzone with olive oil and bake 10-15 minutes or until golden brown.
| | Per Recipe | Per Serving |
| --- | --- | --- |
| Phe, mg | 116 | 58 |
| Leu, mg | 182 | 91 |
| Protein, g | 3.6 | 1.8 |
| Calories | 480 | 240 |