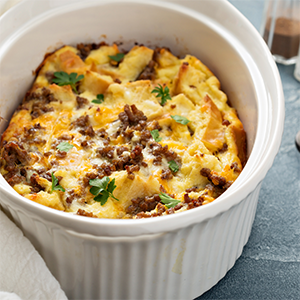 CATEGORY Main Dish, Side Dish
SERVING SIZE 246 g ( about 1 cup )
SERVINGS PER RECIPE 2
1 Cambrooke Burger Patty Mix patty, uncooked (see package instructions)
1 garlic clove, minced
¼ (17.5g) small onion, minced
1 cup (120g) Cambrooke Yuca Tater Home Fries
3 Tbs (28g) Cambrooke Shake N Cheese
1 cup non-dairy creamer
1 Tbs butter
salt & pepper, to taste
Preheat oven to 350 degrees F.
In a large skillet, over medium-high heat, saute garlic & onions. Add Burger Patty Mix patty and cook, stirring and chopping up frequently until browned and crumbled.
Spread mixture evenly in an 8x8-inch square pan. Arrange Yuca-Taters evenly on top.
In a small sauce pan, heat Shake N Cheese, non-dairy creamer and butter until mixture thickens. Pour over Yuca-Taters. Season with salt & pepper.
Bake for 20-30 minutes, until cheese is bubbly and slightly brown.
| | Per Recipe | Per Serving |
| --- | --- | --- |
| Phe, mg | 186 | 93 |
| Leu, mg | 312 | 156 |
| Protein, g | 4.7 | 2.3 |
| Calories | 660 | 330 |