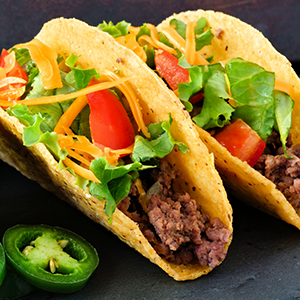 CATEGORY Main Dish, Side Dish
SERVING SIZE 197 g ( about 1/2 cup )
SERVINGS PER RECIPE 1
1 Tbs vegetable oil
¼ (17.5g) small onion, minced
1 garlic clove, minced
¼ tsp garlic powder
1 tsp ground cumin
½ tsp chili powder
½ tsp smoked paprika
1 tsp brown sugar
2 Cambrooke Burger Patty Mix patties, uncooked (see package instructions)
salt, to taste
Heat the oil in a large skillet over medium heat. Add onion & garlic and cook until softened. Add all seasonings; cook, stirring constantly, until fragrant, about 1 minute.
Add the Burger Patty Mix patties and cook, stirring and chopping up frequently until browned and crumbled.
SUGGESTIONS: Use wrapped in Cambrooke Tortilla Wraps with your favorite veggies or layered with Cambrooke Tortilla Chips and other toppings such as shredded cheese, shredded lettuce, guacamole, sour cream, cilantro, etc.
NOTE: Leftover taco meat can be stored in an airtight container in the refrigerator for up to 4 days. Try making recipe with Cambrooke Chicken Patty Mix - nutritional values will vary slightly.
| | Per Recipe | Per Serving |
| --- | --- | --- |
| Phe, mg | 78 | 78 |
| Leu, mg | 117 | 117 |
| Protein, g | 2 | 2 |
| Calories | 420 | 420 |