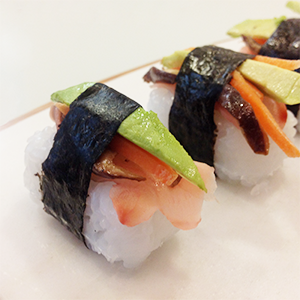 CATEGORY Appetizer, Main Dish, Rice, Snack
SERVING SIZE 130 g ( 5 pieces )
SERVINGS PER RECIPE 1
50g Cambrooke Short Grain Rice
¼ (25g) avocado, thinly sliced lengthwise
¼ tomato, thinly sliced
2 Tbs spicy mayo
½ sheet Nori cut into 5 strips
Cook Short Grain Rice according to package instructions, but only rinse lightly or not at all, since the starch will help bind and hold the shape of your rice mold.
Shape the rice into 5 rectangles with hands or in a sushi mold.
Spread spicy mayo over top of each rice mold.
Cradle the tomato slice over each sushi rectangle and top with an avocado slice.
Tie a strip of nori around the middle of each sushi like a belt and fasten it with a dab of water.
SUGGESTION: Garnish with grated ginger and serve with customary wasabi and teriyaki sauce for dipping.
| | Per Recipe | Per Serving |
| --- | --- | --- |
| Phe, mg | 77 | 77 |
| Leu, mg | 112 | 112 |
| Protein, g | 1.7 | 1.7 |
| Calories | 420 | 420 |