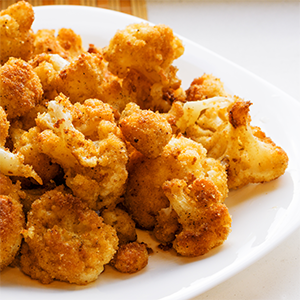 CATEGORY Appetizer, Main Dish, Side Dish, Vegetable
SERVING SIZE 86 g ( about 1 cup )
SERVINGS PER RECIPE 8
1 small head cauliflower, cut into flowerets
2-3 Tbs olive oil
2 cloves garlic, minced
½ cup Cambrooke Chicken Patty Mix
½ tsp salt
pepper, to taste
Preheat oven to 425 degrees F.
Line baking sheet with foil and set aside.
Place cauliflower, olive oil, and garlic in large zipped baggie. Shake to evenly distribute olive oil.
Add Chicken Patty Mix, salt, and pepper, then shake again to evenly distribute the mix.
Bake in preheated oven 35-40 minutes, until cauliflower is golden brown.
SUGGESTION: Serve with your favorite dipping sauce.
| | Per Recipe | Per Serving |
| --- | --- | --- |
| Phe, mg | 400 | 50 |
| Leu, mg | 648 | 81 |
| Protein, g | 12 | 1.5 |
| Calories | 700 | 90 |