Tylactin® RTD 15 Original
Tylactin RTD 15 (15 grams of Protein Equivalent [PE]) is the first and only whole protein complete metabolic formula in a ready-to-drink form for the dietary management of TYR Types I, II, III.
Tylactin RTD 15 original provides a neutral taste allowing to add flavoring or drink on its own. Tylactin RTD is medical food formula that contains Tylactin, the proprietary, advanced formulation of glycomacropeptide and essential amino acids without added phenylalanine and tyrosine. Phenylalanine is not added because phenylalanine naturally converts into tyrosine.
Suitable for individuals over 1 year of age
A smooth milky flavor; also available in chocolate
Convenient 8.5 oz (250 mL) container makes it easy to drink on the go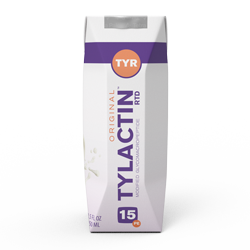 Features Summary (per 8.5 oz container)
---
Tylactin RTD 15 original is for use in the dietary management of Tyrosinemia type I, II, III, in people ages 1 year and older. Tylactin RTD is intended for those, ages 1 year and older, who are under medical supervision for proven TYR. Protein in prescribed amounts must be supplemented to completely meet phenylalanine requirements. Work with your metabolic clinician to determine the daily protein intake (number of grams) you will use per day. Always use Tylactin RTD as directed by your physician or dietitian.

Kosher Certified - OU Dairy certified by the Union of Orthodox Jewish Congregations of America (the "Orthodox Union"). Learn more at oukosher.org
Water, sucrose, whey protein isolate (glycomacropeptide), vitamin and mineral blend (dicalcium phosphate, calcium lactate, dipotassium phosphate, choline bitartrate, magnesium citrate, sodium ascorbate and ascorbic acid, ferrous sulfate, zinc sulfate, niacinamide, vitamin E dl-alpha-tocopheryl acetate, calcium d-pantothenate, manganese sulfate, vitamin A palmitate, vitamin B6 pyridoxine, riboflavin, thiamin hydrochloride, copper gluconate, folic acid, potassium iodide, vitamin K 1 phytonadione, sodium selenite, sodium molybdate, chromium chloride, biotin, vitamin D3 cholecalciferol, vitamin B12 cyanocobalamin), food starch modified, leucine, maltodextrin, cocoa butter, canola oil, arginine, cellulose gel and carboxymethylcellulose sodium, natural flavor (propylene glycol, ethyl alcohol, water, polysorbate 80 potassium sorbate), histidine, sodium hexametaphosphate, tryptophan, cysteine, carrageenan, sodium stearoyl lactylate. Contains milk and soy.
| RTD 15 Original | 8.5 fl oz (250mL) carton | per 100mL |
| --- | --- | --- |
| Protein Equivalent, g | 15 | 6 |
| Calories | 200 | 80 |
| Tyrosine, mg | 3 | 1 |
| Phenylalanine, mg | 25 | 10 |
| Fat, g | 5 | 2 |
30 x 8.5 fl oz (250mL) cartons