Glytactin® BetterMilk Strawberry Creme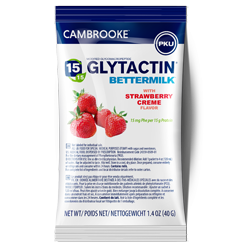 Glytactin BetterMilk Strawberry Creme (powdered formula) is a mix-with-liquid powdered metabolic formula for the dietary management of PKU that makes a creamy, milk-like beverage with a hint of sweetness.
BetterMilk comes in a variety of great tasting flavors and is available in a 15g fortification. All BetterMilk medical food formulas contain Glytactin, the proprietary, advanced formulation of glycomacropeptide and essential amino acids.
---
BetterMilk Strawberry Creme is for use in the dietary management of phenylketonuria. BetterMilk Strawberry Creme is intended for adults and children who are under medical supervision for proven PKU. Protein in prescribed amounts must be supplemented to completely meet phenylalanine requirements. Work with your metabolic clinician to determine the daily protein intake (number of grams) you will use per day. Always use BetterMilk Strawberry Creme as directed by your physician or dietitian.
Glycomacropeptide, trehalose, sunflower oil, maltodextrin, vitamin and mineral blend (calcium lactate, dicalcium phosphate, dipotassium phosphate, choline bitartrate, magnesium citrate, ascorbic acid, niacinamide, ferrous sulfate, vitamin E dl-alpha-tocopheryl acetate, zinc sulfate, D-calcium pantothenate, vitamin A palmitate, manganese sulfate, vitamin B6 pyridoxine, riboflavin, thiamin HCl, copper gluconate, folic acid, potassium iodide, vitamin K1 phytonadione, sodium selenite, sodium molybdate, chromium chloride, biotin, vitamin D3 cholecalciferol, vitamin B12 cyanocobalamin), sugar, L-leucine, L-tyrosine, L-arginine, natural flavors, L-histidine, DHA algal oil, L-tryptophan, acesulfame potassium, L-methionine, Bacillus coagulans GBI-30 6086, purple/red beet juice, sucralose. Contains milk and soy.
| Strawberry Creme | 1.8 oz (52g) packet | per 100g |
| --- | --- | --- |
| Protein Equivalent, g | 15 | 29 |
| Calories | 200 | 385 |
| Phenylalanine, mg | 24 | 46 |
| Fat, g | 3.9 | 7.5 |
30 x 1.8 oz (52g) packets