CAMINO PRO PKU Fruit Punch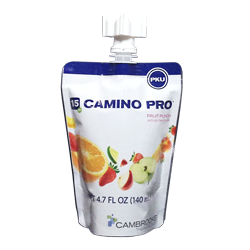 CAMINO PRO PKU Fruit Punch is a mixed fruit flavored, convenient, ready to drink beverage designed for the person with Phenylketonuria (PKU), ages five and older.
CAMINO PRO PKU Fruit Punch is great tasting and nutritionally complete - no need for separate vitamins and minerals. Just shake and drink.
---
CAMINO PRO PKU Fruit Punch is for use in the dietary management of Phenylketonuria (PKU), ages 5 and older. CAMINO PRO PKU is intended for those ages 5 and older who are under medical supervision for proven PKU. Protein in prescribed amounts must be supplemented to completely meet phenylalanine requirements. Work with your metabolic clinician to determine the daily protein intake (number of grams) you will use per day. Always use CAMINO PRO PKU as directed by your physician or dietitian.
Water, amino acid blend (L-leucine, L-tyrosine, L-lysine HCl, L-arginine, L-aspartic acid, glycine, L-valine, L-proline, L-isoleucine, L-threonine, L-serine, L-alanine, L-histidine, Lcystine, L-methionine, L-tryptophan, taurine, L-carnitine), sugar, polydextrose, citric acid, artificial flavors, less than 1%: guar gum, xanthan gum, preservatives (potassium sorbate, sodium benzoate), calcium lactate, calcium chelate, dicalcium phosphate, potassium chloride, sodium chloride, magnesium phosphate, choline bitartrate, ascorbic acid, inositol, vitamin E dl-alpha-tocopheryl acetate, ferrous sulfate, niacinamide, zinc sulfate, Dcalcium pantothenate, manganese gluconate, riboflavin, vitamin B6 hydrochloride, vitamin A palmitate, thiamin mononitrate, copper gluconate, folic acid, cholecalciferol, potassium iodide, sodium selenite, vitamin K1, sodium molybdate, chromium chloride, biotin, vitamin B12.
| PKU Fruit Punch | 4.7 fl oz (140mL) pouch | per 100mL |
| --- | --- | --- |
| Protein Equivalent, g | 15 | 10 |
| Calories | 140 | 91 |
| Phenylalanine, mg | 0 | 0 |
| Fat, g | 0.0 | 0.0 |
28 x 4.7 fl oz (140mL) pouches