Cambrooke's Holiday Favorites!
Ajinomoto Cambrooke
Who doesn't love the holidays? It's the best time to enjoy your favorite foods and indulge in your favorite desserts! While we all love the holidays and the memorable time we spend with our families, sometimes it becomes hard to stick to the diet…
So we came up with a list of some delicious holiday recipes that you will absolutely love and share this holiday season! Here are a few recipes that will make you stick to your diet while you treat your taste buds with all your holiday favorites!
Sweet and Sour Sauce for Meatballs and Cocktail Wieners
Perfect for the holiday parties or drop in guests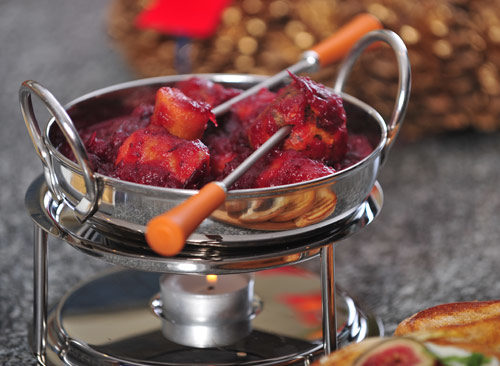 SERVING SIZE: 38 g (1.3 oz.) SERVINGS PER RECIPE: 8
Ingredients:
1/2 can (8 oz) jellied cranberry sauce
1/4 cup ketchup
1/4 tsp garlic salt
Directions
Heat cranberry jelly, ketchup and garlic salt in a saucepan over medium heat until melted.
Pan-fry your favorite meatballs or sliced dogs and simmer in prepared sweet & sour sauce.
Serve in chafing dish and serve with toothpicks.
NOTE: Nutritional information reflects sauce only.
Nutrition Info: Per Serving  Per Recipe
Phe, mg                         6                     48
Leu, mg                         9                     72
Protein, g                      0.2                 1.8
Calories                         50                  400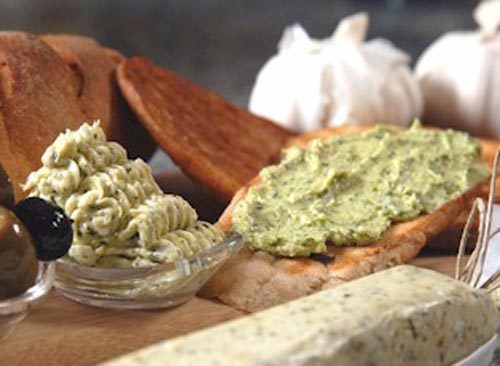 SERVING SIZE: 16 g (1 heaping Tbs) SERVINGS PER RECIPE: 8
Ingredients
8 Tbs (1 stick) butter, room temperature
3 cloves garlic
1/4 cup finely chopped fresh basil
Kosher salt and white pepper, to taste
Directions
Combine all the ingredients in a food processor and process until finely chopped and evenly distributed throughout the mixture.
Scrape out the butter mixture onto a sheet of waxed paper, and roughly form into a rope-like log. Roll the waxed paper over the log and continue to roll and shape until the log is about 1″ in diameter and about 10 inches long.
Twist the ends of the waxed paper and place in the refrigerator until hard, about 2 hours.
For long-term storage, keep in the freezer. Remove needed amount when ready to use, and allow to soften to room temperature for easy spreading.
NOTE: Nutrition information for Basil-Garlic Butter only. The recipe goes great with our CBF Homestyle Bread.
Nutrition Info: Per Serving   Per Recipe
Phe, mg                        9                       75
Leu, mg                         6                      48
Protein, g                     0.1                    0.8
Calories                        100                   20
A nice addition to your Holiday breakfast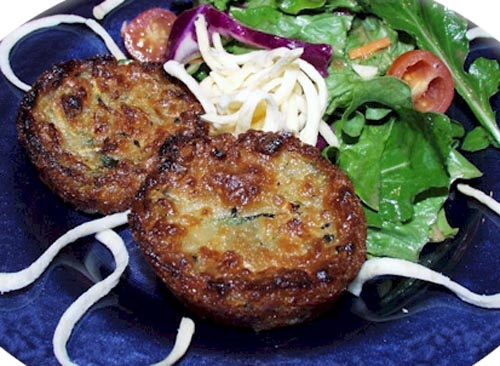 SERVING SIZE: 53 g (1quiche) SERVINGS PER RECIPE: 24
Ingredients
2 medium zuchinni (478g), grated or shredded
1 medium (350g) onion, finely chopped
1 3/4 cups (150g) CBF Cheddar or Mozzarella Shreds
1 1/2 cups (150g) loosely packed CBF MixQuick
1/3 cup (60g) olive oil
1 1/2 Tbs melted bacon fat
1/3 cup water
Directions
Heat oven to 350 degrees F and grease 24 muffin tins.
In a mixing bowl, whisk together all ingredients until the MixQuick is incorporated. Allow to sit for 5 minutes, then pour evenly into greased muffin tins.
Bake for 25-30 minutes. Adjust oven temperature to broil and cook 2 minutes more until the edges are dark and crispy.
SUGGESTIONS: Serve with your favorite soup or salad.
Nutrition Info: Per Serving   Per Recipe
Phe, mg                       17                      415
Leu, mg 48                 30                     713
Protein, g                    0.5                     12
Calories                      80                    1920
Make them for Santa or a nice family treat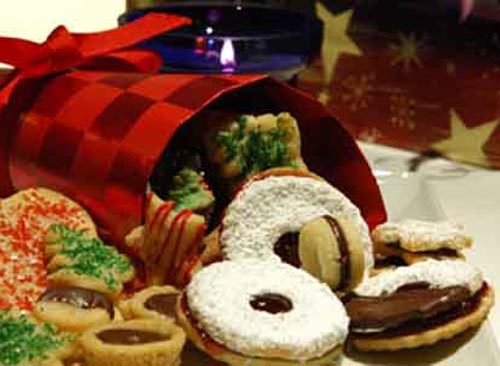 SERVING SIZE: 28 g (1 cookie) SERVINGS PER RECIPE: 12
Ingredients
CBF Scoop-And-Bake Sugar Cookie Dough makes your favorite holiday cookies easy. Just roll, decorate and fill, if desired, as shown.
Directions
Preheat oven to 350 degrees F.
Drop dough by spoonfuls, two inches apart onto ungreased, nonstick baking sheet or roll desired amount of chilled dough between two sheets of wax paper (lightly dusted with wheat starch) to 1/8-inch thickness.
Bake for 10-12 minutes or until edges are light golden brown.
Cool; remove from cookie sheet.
Serve plain or decorate.
SUGGESTIONS: Sprinkle cookies with plain or colored sugar before baking, or spread your favorite frosting on cooled, baked cookies and decorate with colored sugar or candies.
ICING: In medium mixing bowl, beat together 1 1/2 cups sifted powdered sugar and 3 Tbs non-dairy liquid creamer until smooth but stiff. Add more creamer if needed. Tint with food coloring, if desired.
SUGGESTIONS: Try melted CBF Chocolate Cha-Cha`s for chocolate filling or use your favorite jelly.
NOTE: Nutritional information is for one dozen unfilled, undecorated cookies.
Nutrition Info: Per Serving   Per Recipe
Phe, mg                           2                    24
Leu, mg                           3                    36
Protein, g                       0.1                  1.2
Calories                          110                1320
After all the wrapping. A perfect meal before the holiday dinner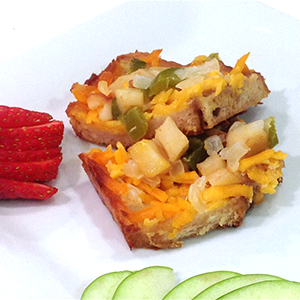 SERVING SIZE: 94 g (1 square) SERVINGS PER RECIPE: 15
Ingredients
1 cup frozen potatoes (small chunks, shreds or hash brown patties)
6 slices CBF Homestyle Sliced White Bread
3 Tbs butter
1 cup CBF Cheddar Shreds
1 cup green bell pepper, diced
1 cup onion, diced
1 1/2 cups non-dairy creamer
1 1/2 Tbs egg replacer
1/2 tsp salt pinch of black pepper
Directions
Preheat oven to 350 degrees F.
Lightly fry potatoes in frying pan, seasoning with salt and pepper to taste.
Butter bread on one side and place buttered-side down in a 9×13 pan. Sprinkle cheddar shreds over bread and cover with potatoes, peppers, and onions.
In a separate bowl, beat egg replacer with non-dairy creamer, salt, and pepper. Pour over top of casserole.
Cover and bake for 45 minutes.
Remove cover and bake an additional 15 minutes. Cut into 15 squares.
SUGGESTIONS: Any combination of vegetables can be used in this dish. Try red peppers or tomato for a splash of color. This can be prepared the night before and kept in the refrigerator to be baked in the morning for an easy brunch.
Nutrition Info: Per Serving     Per Recipe
Phe, mg                     41                          615
Leu, mg                    42                          630
Protein, g                  0.7                           11
Calories                    130                       1950
Enjoying making these with the kids. Great fun for the entire family.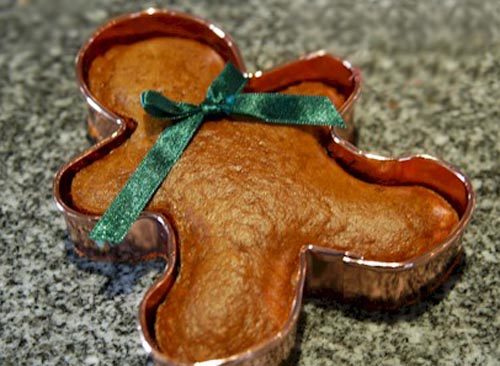 SERVING SIZE: 151 g (1/2 recipe) SERVINGS PER RECIPE: 2
Ingredients
1 cup MixQuick tightly packed (135 g)
1/4 cup water
1/4 cup molasses
2 Tbs brown sugar
1/4 tsp ground ginger
1/4 tsp ground cloves
1/4 tsp ground cinnamon
Directions
Preheat oven to 350 degrees F. Grease and flour 2 4×2 1/2 inch mini loaf pans or a holiday specialty pan such as a gingerbread man.
Combine MixQuick, sugar, and spices. Add water and molasses and mix until completely blended, about 2 minutes.
Bake for about 20 minutes or when toothpick inserted into center comes out clean.
Eat plain or top with whipped cream for an extra special dessert.
SUGGESTIONS: Makes great pancakes or use waffle iron.
Nutrition Info: Per Serving    Per Recipe
Phe, mg                        2                       4
Leu, mg                        3                       6
Protein, g                     0.24                0.48
Calories                       400                  800
Cambrooke sends you Season Greeting as you enjoy this holiday time with family and friends. Enjoy many more delicious recipes at Cambrooke.com.