Low-protein Labor Day Picnic!
Ajinomoto Cambrooke
It's almost Labor Day – time for the last picnic of summer. You may be grilling Brookelyn Dogs (don't forget the buns!) for your low-protein family — or, if you're looking for a little more variety,… but if you're looking for a little more variety, how about a California Veggie wrap? We have a whole menu of enticing low-protein treats for celebrating summer's end.
Muffuletta Rounds with Olive Salad
Ingredients
Directions
Slice bread sticks into 40 rounds, place on broiling pan and drizzle olive oil on slices. Sprinkle with some of the shredded cheese, then top with olive salad. Sprinkle with remaining cheese shreds.
Place under broiler until cheese begins to melt.
Nutrition
| | Per Recipe | Per Serving |
| --- | --- | --- |
| Phe, mg | 136 | 14 |
| Leu, mg | 238 | 24 |
| Protein, g | 3 | 0.3 |
| Calories | 1100 | 110 |

California Veggie Wraps
Ingredients
Directions
Prepare the ingredients then divide them evenly between each of the 4 tortillas.
Layer all the ingredients in a small rectangle on the bottom half of each round tortilla.
Fold in two sides until they meet in the center. Fold the bottom of the tortilla to the center over the filling, and continue rolling.
SUGGESTIONS:
ITALIAN WRAP: mushrooms, spinach,tomatoes and Cambrooke Mozzarella Shreds.
ASIAN WRAP: grilled eggplant basted with teriyaki sauce, rice vinegar and sesame oil.
MEDITERRANEAN WRAP: arugula leaves, Cambrooke Tabboule recipe, and roasted red peppers.
AMERICAN WRAP: lettuce, tomatoes, Cambrooke American Cheese Singles and sandwich spread.
DESSERT WRAP: apple slices sauteed with maple syrup, lemon juice, butter and rum. Sprinkle with cinnamon and bake at 375 degrees F for 15-20 minutes.
Nutrition
| | Per Recipe | Per Serving |
| --- | --- | --- |
| Phe, mg | 240 | 60 |
| Leu, mg | 356 | 89 |
| Protein, g | 6.8 | 1.7 |
| Calories | 360 | 90 |
Ingredients
Directions
Cook pasta until al dente, as directed on package; drain and rinse with cold water.
Meanwhile, heat the oil in a large nonstick skillet. Add the mushrooms, and cook over high heat until lightly browned. Season with salt and pepper. Remove from skillet and set aside.
In the same skillet add the steamed broccoli and cherry tomatoes. Cook over high heat about 2 minutes until nearly tender.
Add to pasta and toss with dressing. Garnish with cilantro or parsley.
Nutrition
| | Per Recipe | Per Serving |
| --- | --- | --- |
| Phe, mg | 155 | 52 |
| Leu, mg | 227 | 76 |
| Protein, g | 5 | 2 |
| Calories | 630 | 210 |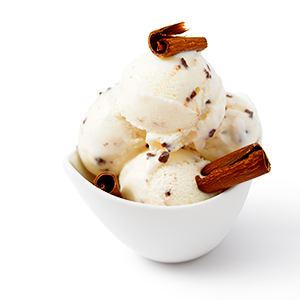 BetterMilk/Build Chocolate Chip Ice Cream
Ingredients
Directions
Blend BetterMilk, water and pudding.
Mix vigorously with a wire whisk until mixture is smooth and creamy.
Add chocolate chips and pour into miniature ice cream maker and follow manufacturer's instructions.
For firmer ice cream, place in freezer for several hours.
NOTE: Nutrient data is based on Glytactin BetterMilk. To reduce phenylalanine, use fewer chocolate chips.
FUN ALTERNATIVE:
Place ingredients in a small Ziploc bag and seal closed. Put 3-cups crushed ice and 1/3 cup salt in a larger Ziploc bag. Put the smaller bag into the larger bag and seal securely.
Shake and mix until the ice cream thickens, about 10 minutes.
Nutrition
| | Per Recipe | Per Serving |
| --- | --- | --- |
| Phe, mg | 42 | 42 |
| Leu, mg | 2912 | 2912 |
| Protein, g | 0.8 | 0.8 |
| Protein Equivalent, g | 15 | 15 |
| Calories | 280 | 280 |