Letter from Uganda: PKU with No Limits
Ajinomoto Cambrooke
Marketa Rysava has sent us an update on her Uganda trip! Marketa, a woman with PKU, is volunteering with Girl Power Foundation.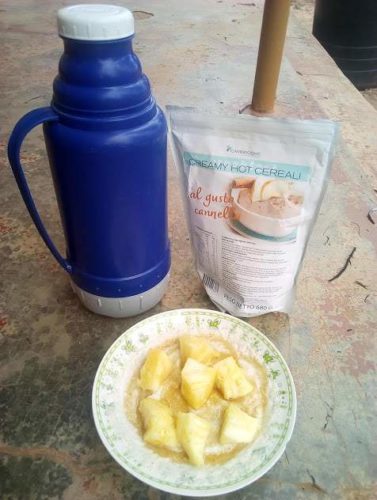 Cambrooke is co-sponsoring Marketa's journey, supplying her with Glytactin Build 20/20, Glytactin BetterMilk Lite, and Glytactin Complete 15 Peanut Butter bars as well as low-protein foods including Cinnamon Hot Cereal, Instant Noodle Soup, Eggz, and MixQuick.
You can read about Marketa's trip in her other blog posts. Below are excerpts from Marketa's letter.
***
We had a registration day last Monday. Local girls were coming throughout the whole day to register and then we had a meeting with most of them on Wednesday. Our target group is adolescent girls 10-24 years old, but older girls came as well. We had a separate meeting with them on Thursday. As they were not our target group, we could not offer them the training for sandal making from used tires, but we told them that they will be able to learn it here from the other girls once they finish the training…
We have a group of approximately 16 girls now (age 10-24). At the meeting we held, we discussed that it will take some time to raise money to start the sandal making training, as will cost 2.000.000 Ugandan shillings (approx. $532 USD).
The girls then came up with proposals of other activities till we get the money and training can start. They decided to meet 3 times a week and to learn how to make jewelry, mats, and baskets. Some of the girls already know how to make those things, so they can start by learning from each other.
As Girl Power Foundation does not have money right now, we asked the girls to try fundraising, so they can collect money for the material. We provide safe space for them where they can meet and learn.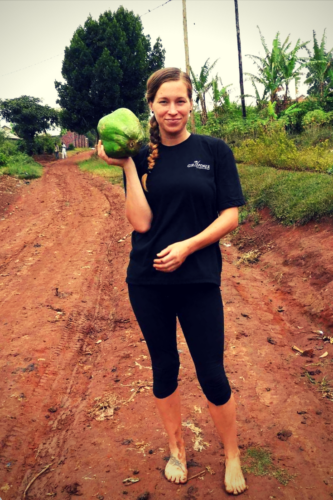 We were introduced to a volunteer coordinator from the Netherlands, Thijs, who lives close by, in Masaka, and has an agency that is sending volunteers from the Netherlands abroad… He invited us to the official launch of a plastic recycling plant in Masaka called the Masaka Recycling Initiative. The plant was built in cooperation with Coca Cola Uganda, which donated the machine for recycling and supported them all the way through.
A local engineering student who is employed by the Masaka Recycling Initiative came up with an amazing solution on how to reduce the number of plastic bottles that are sent abroad for recycling. He came up with pavement bricks which are made by mixing hot, liquid plastic and sand (approx. 40% plastic / 60% sand). There were demonstration bricks available and you could even compare the traditional brick and this new one. Lab tests showed that the plastic bricks were lighter, don´t absorb water, and last longer than traditional bricks. I was super excited about this.
This launch was important for us not only because we are very interested in the environment and recycling, but also because we knew we can find important connections there… We also found out that our girls can earn money by collecting plastic bottles and bringing them to the plant or one of the collection spots in the area. It was all and all very nice and successful afternoon.
We also went to visit a woman who serves on the Girl Power board and works as a tailor…. I went there with Flavia,  another member of the board and our boss, for a few hours and learned some techniques for recycling in tailoring businesses. We have another meeting with the woman coming up, and we will try to schedule lessons for our girls.
***
Thanks to Marketa and her fellow volunteer Felicia, Girl Power Uganda now has a Facebook page, an Instagram account, and a web site. These sites are still under development, but you can check them out now!