BUILD 20/20: The Lowest Phe GMP Medical Food Ever!
Ajinomoto Cambrooke
Last year we announced that Cambrooke had been acquired by Ajinomoto, a worldwide leader in amino acids, pharmaceuticals, and seasonings. We said we were excited to leverage Ajinomoto's research and development strengths as we continue our mission at Cambrooke.
Now, we are excited to announce that we have developed our first new PKU medical food since we joined Ajinomoto: BUILD 20/20, the lowest Phe GMP formula available.
BUILD 20/20 contains only 20 mg Phe per 20 g PE serving. That's an average of 40% less Phe than all other GMP-based PKU medical foods. We did this while keeping the same amount of whole protein GMP in BUILD 20/20 as all other Glytactin products.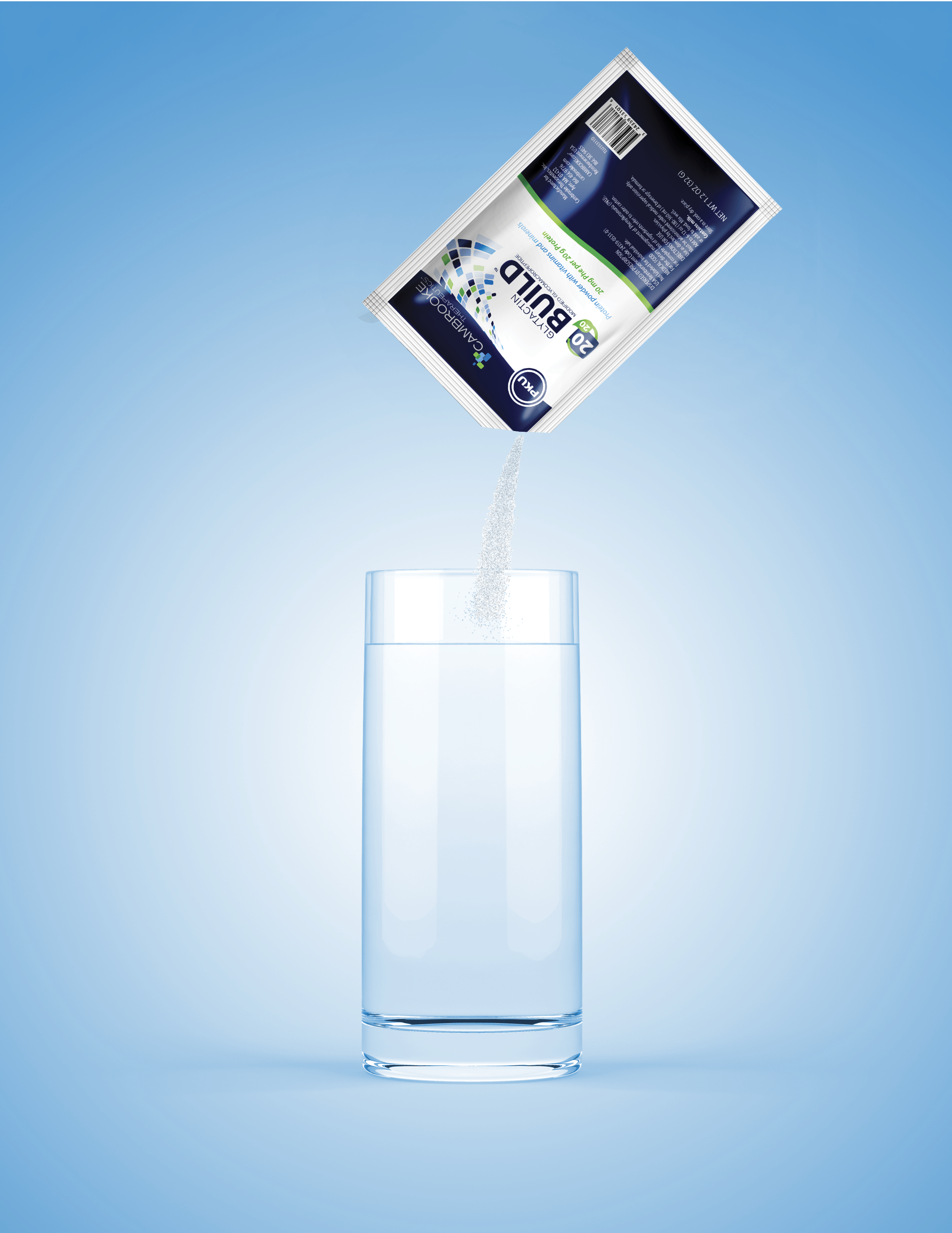 Build 20/20's complete features
Lowest Phe 20 mg Phe per 20 g PE serving – 30-40% lower Phe than all other GMP products for PKU
Natural! Natural whole GMP protein supplemented with naturally fermented AAs from Ajinomoto
Low volume
Lowest calorie GMP nutritionally complete formula – 108 calories
Low carb – 5 g/ serving
Total sugars – 0 g
No artificial sweeteners or colors
Neutral taste – no artificial flavors
Easy to mix in your medical food as a protein booster
Add to flavored beverages or used with flavor drops (Mio etc.)
Synbiotic: includes prebiotic GMP plus supplemented probiotic to support gut helth 
The world's lowest Phe PKU formula made from natural whole protein.
Glytactin was first introduced in BetterMilk in 2010 and was the world's first PKU protein formula made from a natural whole protein derived from whey called glycomacropeptide (GMP). GMP is produced during the cheese making process and is the only naturally occurring protein that does not contain Phe in its pure form.
When GMP is separated from other milk whey proteins, some residual Phe remains. Now, Cambrooke has adopted a new process for producing GMP. This new process gives us the purest GMP ever developed – and the lowest-Phe Glytactin ever. Build 20/20 is Cambrooke's first product featuring this new, purer, lowest-Phe GMP.
Cambrooke developed Glytactin in collaboration with researchers at the University of Wisconsin, the cheese capital of the world. The result was a combination of GMP and a balance of critical amino acids, such as leucine, arginine, and tyrosine, which are at low levels in GMP.
Until the introduction of Glytactin, PKU formulas were made of 100% synthetic, man-made, single amino acid proteins. Studies of Glytactin published in 2016 and 2017 suggest many key benefits when people with PKU consume Glytactin vs. amino acid medical foods, including feeling less hungry between meals and retaining more calcium and magnesium, important minerals that support bone health.
And now, with the backing of Ajinomoto and access to Ajinomoto's century of experience with naturally fermented amino acids, we are getting a step ahead with our newest formula: Glytactin BUILD 20/20.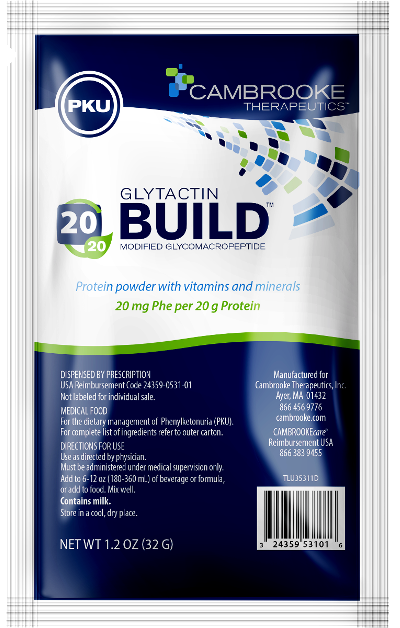 Glytactin BUILD 20/20 is just the beginning
Now that we have access to Ajinomoto's 1700 global research and development experts (10% of them hold doctorates), our mission to help people living with PKU feel more balanced and feel better has been powerfully accelerated.
Expect more tasty food innovations, more ready-made meals, and more delicious formulas. You'll get lower Phe Glytactin medical foods, even better metabolic balance and – you guessed it –- more people who are feeling better and living better!
If you're a Cambrooke customer, Glytactin BUILD 20/20 proves that you've backed the right horse. If you're not, we welcome you to join us any time to…
Feel balanced. Feel better.