Water Bottle Design Competition
Ajinomoto Cambrooke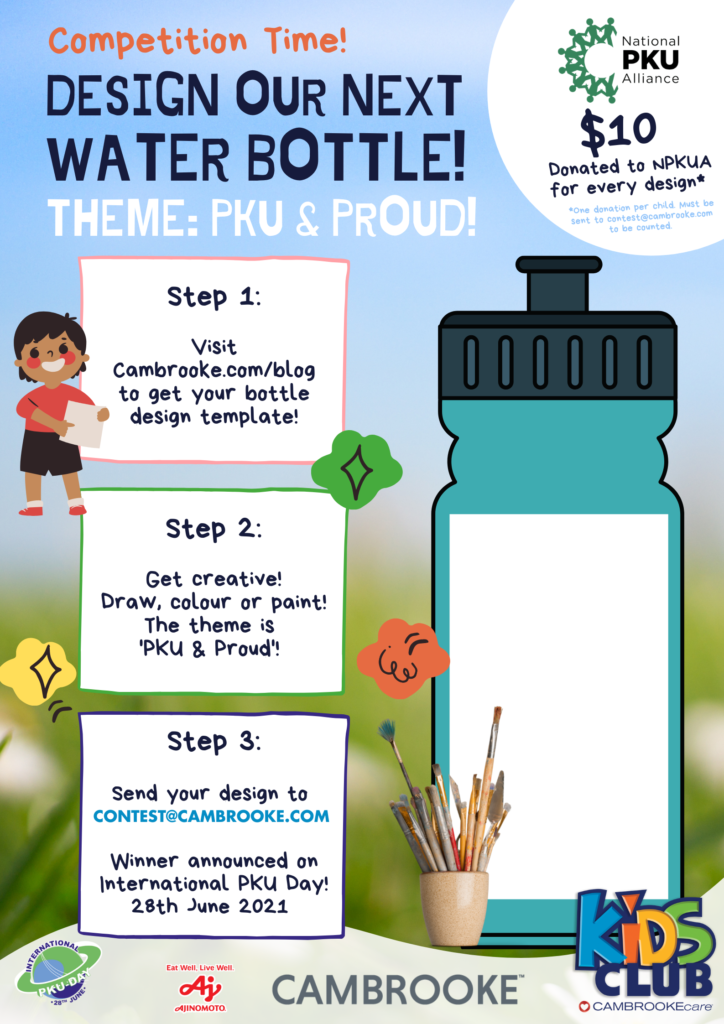 Design our next "PKU & Proud" water bottle!
For every child that sends us a design, we will donate $10 to the NPKUA. Winner announced on International PKU Day, June 28th!
Step 1: Complete and submit the competition form below. Within minutes you will receive the design template to your chosen email address. Email contest@cambrooke.com if you don't receive.
Step 2: Get creative! The theme is "PKU & Proud!"
Step 3: Scan or take a picture of your design and send it to contest@cambrooke.com before June 27th 2021.
Remember to keep your design safe as we may need you to post it to us if you win!
Step 4: We will pick a winner on 28th June and have the design printed on our next Kids water bottles. All participants will receive a water bottle too!
Competition Entry Form
Terms and conditions:
Children with PKU under the age of 18 are eligible to enter competition.
This competition will run until June 28th 2021.
All designs should be submitted by June 27th to contest@cambrooke.com. Any designs submitted after June 27th 2021 time will not be counted. The winner will be announced on June 28th 2021.
For every child that submits a design, we will donate $10 to the NPKUA (up to $2,500). If multiple designs are sent by one child, only one design will be counted. Designs must be sent to contest@cambrooke.com to be counted and registered.
Children and young adults under 18 years old will be eligible to take part, in the United States or Canada. Any designs submitted by those outside of the United States or Canada will not be counted.
Only one design will be chosen to win the competition and will be printed on a set number of water bottles as decided by Cambrooke. 
All participants will receive a water bottle for taking part in the competition, to the delivery address provided in the competition form.
By opting into receiving samples, joining our mailing list and/or other communications, you are providing express consent for Cambrooke to hold your details in a secure manner in order to carry out these communications and activities.
Participants can opt out of receiving communications from Cambrooke at any time by clicking on the 'unsubscribe' link at the bottom of any email correspondence or by emailing asteel@cambrooke.com.
The winner will be contacted and informed, and if consent is provided to disclose the name of the winner, we will also announce it on social media. No names of patients will be disclosed without express written approval.
See our company Privacy Policy for more information.