Jackfruit Sweet Potato
Ajinomoto Cambrooke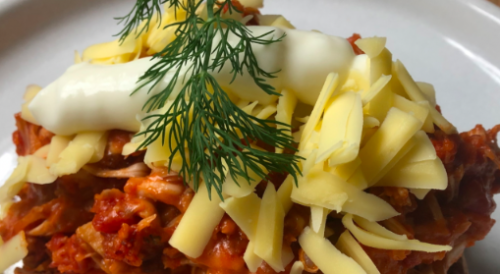 Ingredients
Serves: 1 person
For this recipe, you will also need ½ tbsp. olive oil, 0% protein soured cream, salt and pepper to taste (optional).
Method
Microwave the sweet potato for 5 minutes or until cooked through.
On a high heat, fry the jackfruit in ½ tbsp. olive oil for 3 minutes.
Add the marinara sauce and stir for 5-6 minutes.
Add the Build 20/20 and stir for a further 1-2 mins. Then add half of the cheese and stir through.
Open up the sweet potato and place the jackfruit mix on top. Sprinkle on the rest of the cheese and top with soured cream (0% protein) if desired.
Nutritional Information:
Calories: 434 kcal
Phe: 169mg
Protein: 3.57g
Exchanges: 11