Low Protein for Less: Cambrooke Burger Patty Mix
Ajinomoto Cambrooke
Guest Blog by Carolyn Beckman
A version of this post originally appeared in the Iowa PKU Discussion group on Facebook.
Are you a fan of Cambrooke's Camburgers, or their frozen veggie meatballs, but want to stretch your dollars for low protein meat alternatives? I have been playing around with Cambrooke's new Burger Patty Mix and have come up with some cost saving (and time saving) options for people who like to prep in bulk.
With the recipe listed below, one bag of Burger Patty Mix ($29.99) will make about 20 burgers or 76 Italian meatballs (about 1.25" in diameter), which is substantially less expensive than the prepared frozen options. Camburgers are 4 for $12.49, and frozen veggie meatballs cost $21.99 for 16 (granted, those meatballs are slightly larger than the ones I make.)
Additional advantages to making the dry mix ahead is that shipping costs are cheaper for dry ship, and the ready-made patties and meatballs are quick to microwave for daycare, babysitters, and VERY quick meals during the week!
A burger press (I use a Cuisinart plastic press) and the small OXO cookie scoop come in handy for quick prep. Then, all you have to do is pan fry the patties or meatballs in a generous amount of oil until VERY lightly brown, cool on a rack, then freeze in freezer bags! Quick and easy. My 3-year-old LOVES these patties and meatballs. They are also a staple at day care, where a microwave is our only heating option.
I have to admit, the first time I made burgers from the mix, the ratio of liquids to dry mix wasn't working for us, and the mixture was too sticky to handle. I have figured out the ratios for those who are interested.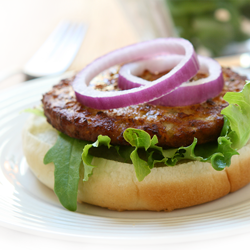 Burger Patties
Makes 6 patties / 25 Phe per patty
Spray patty press with nonstick spray. Put pressed patties on wax paper until you are ready to cook them.
Heat oil in large skillet and pan cry patties until very lightly brown.
Cool on wire rack before freezing.
Italian Meatballs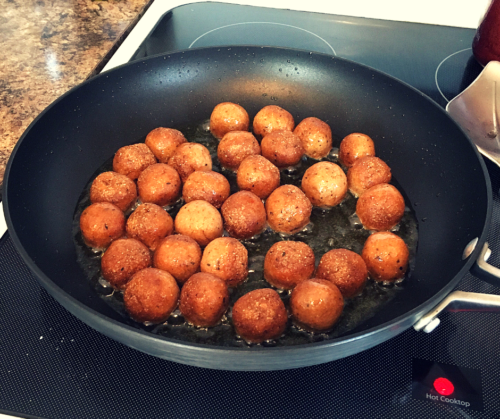 Makes 24 meatballs / 7 Phe per ball
Use OXO small cookie scoop to make uniform size balls.
Roll mixture into balls and cover with plastic wrap to prevent drying until you are ready to cook.
Heat oil in large skillet. Fry balls, rolling the skillet to cook the balls uniformly, until balls are lightly browned.
Cool on wire rack before freezing.
Happy cooking,
Carolyn Beckman